Next-Generation trading indicators
Improve YOUR trading skills WITH smart algorithms
Know what is happening on each candle of your trading journey. No guesswork required.
You won't be charged during the trial period. We promise.
Realtime indicators at your fingertips
Realtime charts for any asset.
With TradingWolf, you can request any chart. Whether they be stocks, cryptocurrencies, trading Forex, indices, or commodities. Simply add our indicators and easily recognize entry and exit patterns, whether you want to go long or do some swing trading we have the indicators that you need.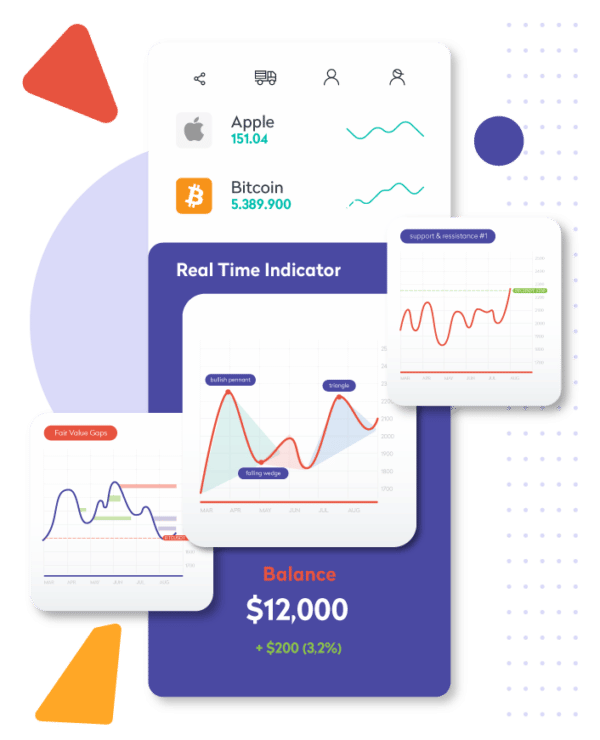 The best trading tools. Here's why…
Find out why our tools are great. Start your successful trading journey with TradingWolf.
Trading patterns
Our algorithms look for patterns and make sure they pass verification before showing them so that you only trade on correct information.
Technical Oscillators
To spot movements in the market early. Quickly show (hidden) bullish or bearish divergences in markets. Suitable for getting your emotions under control.
Overlay indicators
Trading market reversals, trendlines, correlations on market. Easily spot changes with our trend dots, squeezes and smart volume profiles.
Smart Money Concept
Identifying and understanding financial smart money professionals. Also, act the way they do it. Understand the market and how to trade.
We make trading easier & guess what? They love us for it 🙂
Since implementing the TradingWolf indicators, it has been less stressful trading and more enjoyable. Would recommend it.
Great combination of my charts with TradingView and your indicators. Charts are cleaner and have more useful information on.
Worth every penny. Saves me a lot of time and effort plotting charts. I can just skip it and focus on trading, what I like the most.
There are a few indicators of this type on TradingView. This is the most accurate on the SMC. Builded with knowledge and they are really quick.
Using TradingWolf SMC, the order blocks really worked out for me. Perfect for my scalping strategy on the bull and bear market.
I like the CHOCH on the SMC tools. I just waited for the market to move and used the boxes; it worked very well for me. Thanks, guys!
New to trading and learned a lot with trading on this tool and the videos and docs. Thanks a lot, guys, I made some money in the bear market.